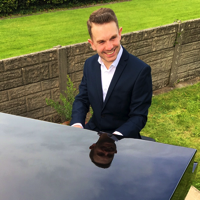 Craig Smith splits his time between Preston and Liverpool, and operates throughout the North West. He is a full time professional musician of considerable repute, having recorded for Bryan Adams, and shared stages with the likes of Paloma Faith, as well as working with various touring acts and musical theatre productions. His composition portfolio includes work on TV documentaries and live music for events. He also works part time in schools and colleges as a teacher and lecturer.
Craig has never employed an agent; every job he has worked on has come directly or indirectly through his own marketing (which in turn often leads to word-of-mouth recommendations). Craig's masterclasses are structured to pass on the wealth of knowledge he has accumulated in marketing oneself as a self-employed musician or performing artist, as well as more detailed classes in the specifics of certain disciplines. They are aimed at college students looking to enhance their career prospects and offer practical career advice for delivery in colleges, schools, youth clubs, libraries etc.
All masterclasses, lectures and workshops can be structured specifically to the number and needs of students, and may be followed by practical application of the theories discussed. Masterclasses can be written and delivered on any subject in which Craig has experience through his career as a freelance musician, promoter and producer. Existing masterclasses include:
Marketing Musicians - The Basics
This masterclass explores the various techniques used by freelance performers in self-promotion, including the internet and creating personal relationships. The pros and cons of each are explored, using anecdotes from Craig's career to date, and those of other artists with whom he has worked.
Personal / business websites
Industry registries and job vacancy websites
Social Media
Personal networking
Marketing Musicians - Advanced [Top]
This masterclass explores the best methods for taking advantage of social media (particularly Twitter and Youtube), and best practices in designing websites. It can be followed by a practical workshop, setting up (or editing) various social media accounts to better sell the artist.
Using Twitter and YouTube for networking
Using Twitter and YouTube for promotion
Website essentials
Website add-ons, such as analytics (know who is looking at you)
The Portfolio Musician [Top]
Discussing the benefits of becoming skilled in several disciplines; the only way that most performers are able to enjoy a successful career without that elusive 'big break'. This can be a self-contained lecture, or a series of lectures and seminars investigating one topic weekly and following up the following week with the students' findings, having applied a theory during the week.
Performing in diverse styles
Creating for other performers
Promoting other performers and your own work
Teaching: a secure income even one day a week
Natural Drum Programming [Top]
A hands-on workshop using any music technology software to explore the various methods for making drum programming more 'human'. These skills are also transferable to the programming of other instruments.
Understanding how the 'real' drummer plays
Midi input
Midi manipulation
Mixing for a more authentic sound
Lectures can be delivered in any setting including schools, colleges, youth clubs, libraries and others. Practical workshops may be limited by the facilities at the venue.