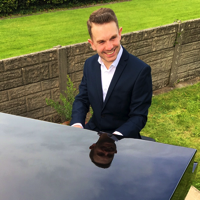 As you'll have seen from the rest of the website, Craig isn't your average private tutor. His work as a fulltime session musician gives Craig an insight into the real world of professional music that, combined with his classical training as a young musician, allows his students to explore a world of opportunities that would otherwise be out of reach. This page is a full round-up of all of Craig's private tuition services.
Craig provides advanced level tuition in piano, keyboards, music theory and other more specialised disciplines such as composition, arranging and music technology.
Just as Craig's experience is unique in the area, your own wants and needs will be unique to you, and lessons are structured to achieve your goals and broaden your dreams. Although exams are available and catered for, there is by no means any emphasis on sitting them regularly... unless, of course, that's what you want to do!
As well as his private tuition, Craig is available to deliver a number of masterclasses and workshops aimed at those keen to pursue a career in music or the performing arts industries. These are available for delivery at schools, colleges, youth clubs, libraries and so on.
Craig's experience within the music industry makes his tuition unique within the area. A CV containing work for/with artists such as Pixie Lott, Paloma Faith, Tinchy Stryder and Bryan Adams is unrivaled in Lancashire, and puts Craig in a perfect position to enthuse those hard-to-please teens! He is also highly active within the worlds of musical theatre and composition, and is in a perfect position to offer advanced players guidance on how to (realisticaly) approach a professional career in the music industry. See the Biography page for more information on Craig's career to date.
Craig Smith Music Tuition was originally set up in 2004 as a means to help Craig pay for his degree at the world-renowned Liverpool Institute for Performing Arts (LIPA), co-founded by Sir Paul McCartney. There was a huge demand for Craig's services, with parents and students searching for qualities that simply weren't being provided by local music schools (especially those teaching in schools) and spare-time teachers:
Full-time professional musician also available as a private music tutor
Lessons that were available where it most suited them: either in their own home, or in a proper music studio
A young, enthusiastic music teacher who could inspire students and be familiar with the music they like
An advanced musician able to teach in far more detail and teach less well-known ideas and skills
A flexible keyboard and piano teacher who could cope with being led by the student on what they wanted to study, not limiting them to traditional tuition
A mentor with proper knowledge of the professional music industry and/or music colleges, degrees etc.
Craig soon provided one of, if not the, busiest privately-run professional music tuition services anywhere in the North West, expanding in mid-2010 to open a regional private music school, with several mobile teachers on various instruments. It would become the North West's most popular home music tuition provider.
In recent years, Craig's successes in other areas of professional musicianship have seen him opt to reduce his teaching hours. He is now responsible for the delivery of tuition on all keyboard instruments at Garstang Community Academy, and only teaches a few private hours weekly on Monday and Wednesday evenings, with a few fortnightly visits on Thursdays too. Vacancies are scarce, but are still available, currently on Wednesday evenings and on Thursday afternoons.
Craig is a full-time professional musician with experience in many disciplines within the industry. To a large degree, you can study what you like, and your lessons will be structured around your ability, requirements and ambitions. There is no single set course, and most students study a mixture of all or some of the disciplines below:-
Piano Lessons in Preston
Piano lessons are available in classical, pop, rock, blues, soul, R&B and jazz styles. The emphasis can be on traditional reading of music, or playing by ear or from charts, as requested by the student. A mixture of the three is probably the best option for most students.
Music Reading Lessons
Over the years, Craig has developed a number of alternate approaches to learning to read standard music notation. The reason that most musicians who struggle to read music do struggle is because previous teachers have placed too much emphasis on trying to work out the letters instead of seeing shapes and patterns. Craig's techniques specialise in reversing these habits and allowing people to read music more freely.
Keyboard Lessons in Preston
Keyboard lessons tend to follow the usual syllabus for keyboard studies with 'own choices' regularly included too, leading to 'promotion' to piano with all/any of the styles mentioned above. Keyboard lessons tend to use pop music as the main repertoire due to current students' preferences, but any style can be covered.
Music Theory Courses
Music Theory lessons are available as both personal courses and as correspondence courses (either by post or using Skype or Facetime). Most students work up to grade 5 using the ABRSM syllabus, a level that will be required by most colleges and universities, but higher grades can be catered for too. The LCM Popular Music Theory course can also be used, and this is becoming popular for its more relevant content to today's young musicians, and due the fact that some of the country's top popular music courses require it (LIPA's music degree asks for grade 7).
Craig is available as a Preston music theory teacher for music theory tuition and also online music theory lessons. He also provides Preston composition tuition, with composition lessons available from him as a composition teacher in Lancashire and online offering online composition lessons.
Composition Lessons
Composition lessons are available, and Craig is a practicing composer/arranger writing for films and theatre as well as taking small commissions for weddings and similar one-off events. Composition can be for classical or popular ensembles and solo instruments, and may or may not incorporate the use of technology within composition (Craig's studio is equipped with industry standard software such as Sibelius and Logic). Lessons can be carried out remotely using the internet or post.
Music Technology Tuition
Craig's studio is equiped with Logic software to learn about midi sequencing, audio recording and editing, effects processing, mixing and mastering and so on. His work as a music tech teacher is generally with house music producers looking to improve their skills as a musician alongside their production, and hoping to make more 'authentic' or 'natural' sounding tracks, or combine their current knowledge with better use of keyboards to allow them to work more efficiently and/or musically.
Due to an ever-increasing demand on Craig's time from live performances and studio work, lessons now only take place on Wednesdays, with a couple of vacancies currently available from his Preston studio on Wednesday evenings, and a couple of slots for visits or at his studio in the morning too. There is availability for lessons in schools during daytimes; please contact us if your school is looking for an engaging peripatetic teacher. Craig provides keyboard and piano lessons for beginners right through to diploma level.
Please get in touch for information on more specialised tuition such as composition/arranging, advice on taking up keyboard lessons or piano lessons in Preston or elsewhere in Lancashire, or to enquire about teachers on any instrument in the area. Craig Smith Music's contacts include some of the very best musicians in Preston, the North West, and beyond, so look no further for recommendations for a fantastic teacher on any instrument, whether or not they work with us.
For several years, Craig was the representative for London College of Music exams in Preston North & Fylde. Exams are not compulsory, but he has years of experience - and success - in entering candidates for exams with all of the major exam boards, and is very careful not to limit students to the (still slightly old fashioned) ABRSM, which many older and classical teachers still stubbornly deem to be the only appropriate option.
Exams can be taken with the Associated Board of the Royal Schools of Music, London College of Music and Victoria College of Music (of which Craig is an Associate with Honours), and are available in classical and contemporary / jazz piano, electronic keyboard, theory of music, popular music theory, musicianship and composition. LCM exams offer the option of being examined only on your playing, omitting all of the scales, listening tests and suchlike. This 'leisure play' option is currently proving very popular, particularly with Craig's many adult piano and keyboard students.